Today's session of retail therapy will take a look at great finds from Nordstrom's current sale. I love Nordstrom because not only do they have a wide selection of quality labels, the customer service is top-notch. In this age of e-commerce, many things can go wrong with an online purchase, but I have had great experiences time and time again. When I go into the store, I feel like a valued customer. This is important because going to a brick-and-mortar store should be a joy, not a pain! So I am proud to be affiliated with a brand that sets the example of what a great shopping experience should be (links are provided for your convenience).
For most people, spring is the time to clean out the closet, replace old worn items and/or add a few new pieces that are in line with current trends. The trends for Spring/Summer 2019 are exciting, sometimes surprising, but definitely
To help you answer the question of what to wear this weekend, check out the excellent options below.
---
This post contains affiliate links, which keeps me supplied with coffee and chocolate (thanks, dear!). Please see Disclosures for more information.
---
Tie-Dye 2019
You may be thinking of the hippie tie-dye shirts from way back when, or the summer camp activity of rubber bands and bins of colored water, but the tie-dye of Spring/Summer 2019 is so much more than that. While you will see the classic rainbow styles, when paired with sumptuous fabrics and classic silhouettes, what you have is tie-dye elevated. I can't believe I'm saying it either. But seriously, I'm signing up!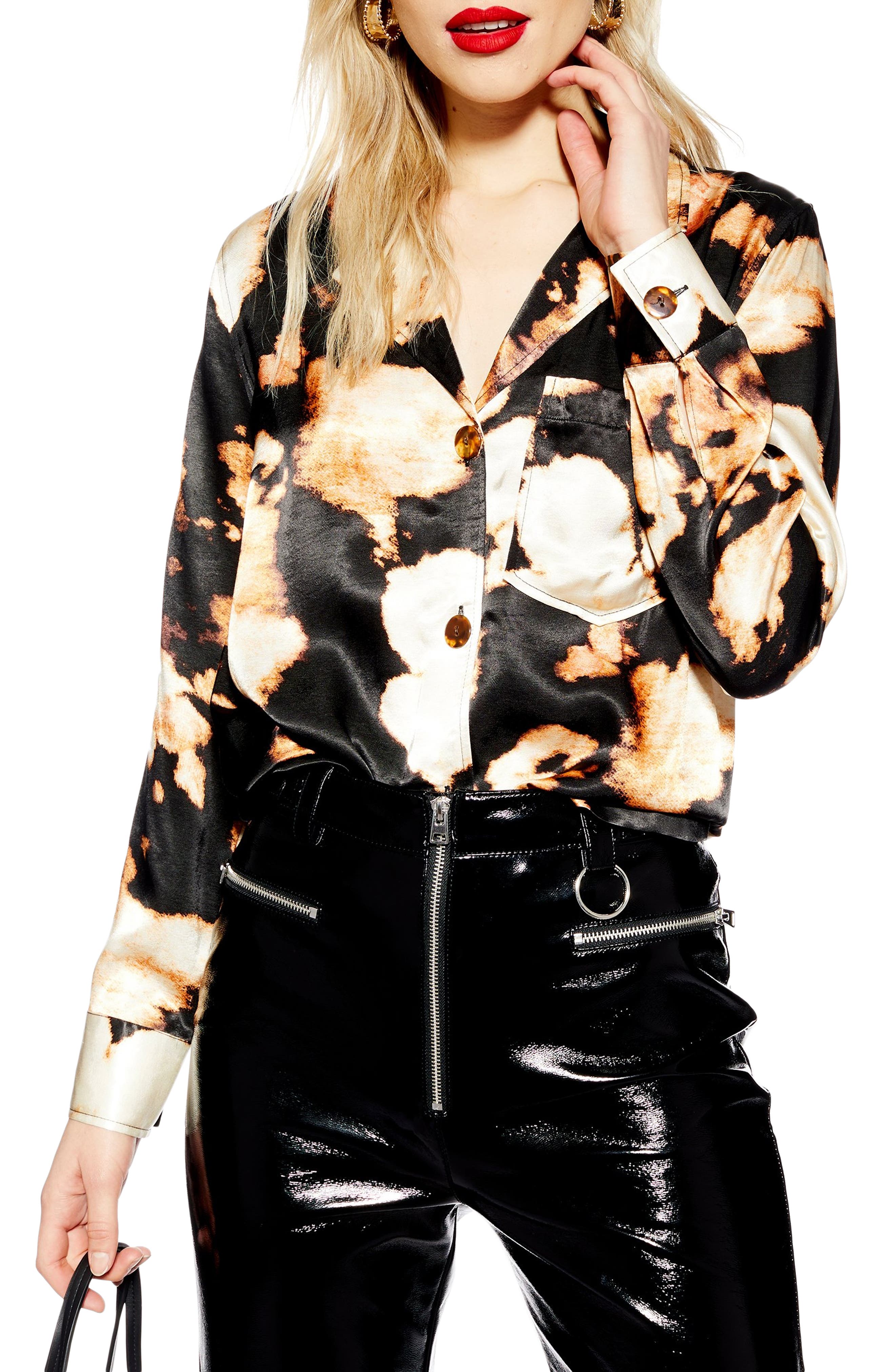 Splodge Tie Dye Button Down Shirt

This season, Topshop has fully embraced the tie-dye trend. You will find everything from blouses to outerwear and—I'm especially excited about this—boiler suits! Two trends in one is something I can fully support.
If you are looking to add a cute summer top to your arsenal (because you can never have too many cute summer tops), here's one from Free People:
This V-neck tee from Free People is a perfect choice for hot summer days spent at music festivals, art fairs, or just going about your daily routine. It's like this trend was made for Free People. Embrace your inner Bohemian.
If you're looking for a pool-side/beach option, this one from Tommy Bahama is great. Again, this brand is probably not a stranger to tie-dye (some are ahead of their time, and just waiting for us to catch up). Beautiful blues form a shell pattern in this one-piece swimsuit. And there's tummy control!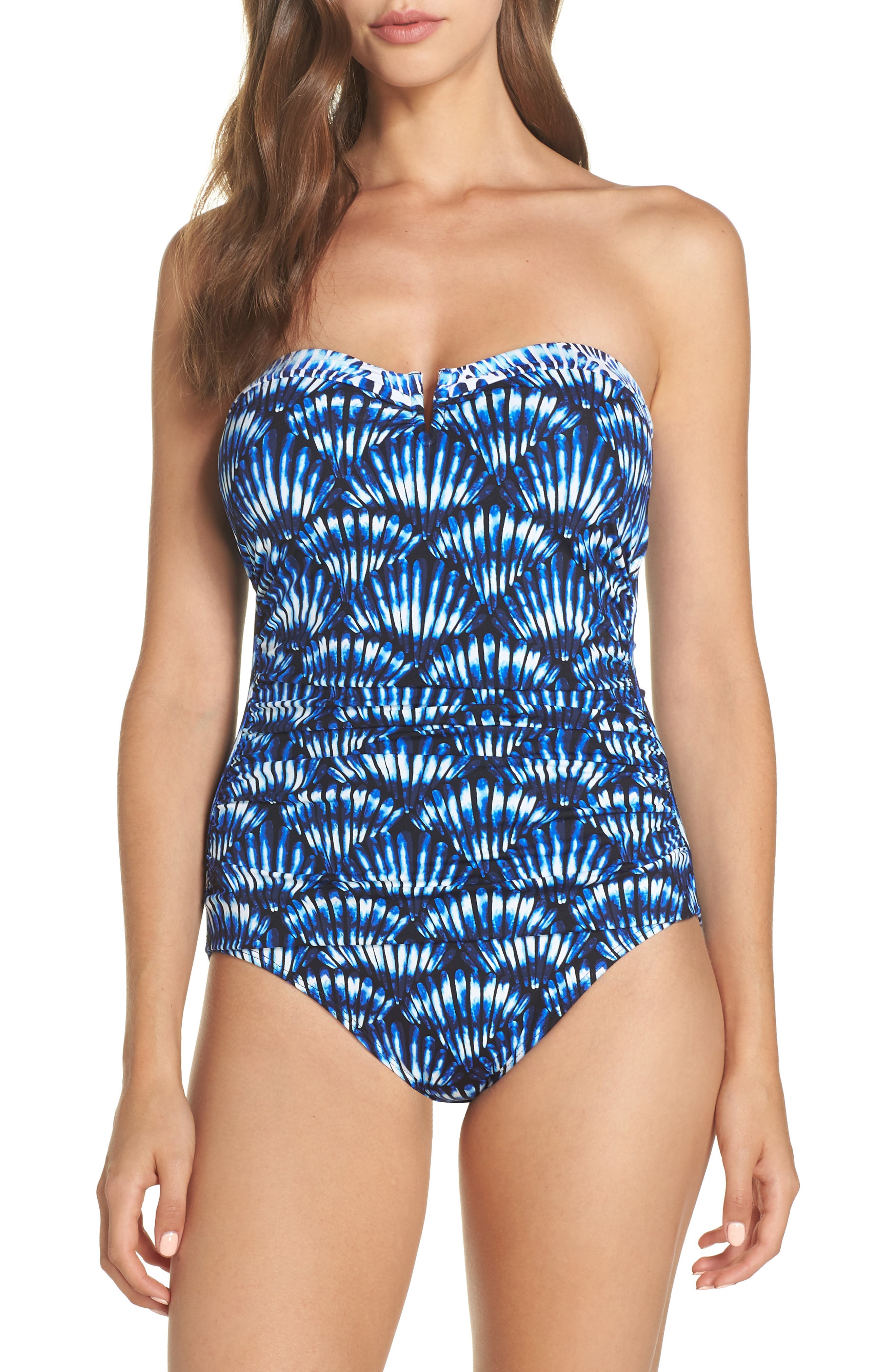 Tide Dye Seashells Bandeau One-Piece Swimsuit

I couldn't help but share this fun shirt from one of my personal favorites, Alice + Olivia. A bright colorful rainbow adorns the front of this cotton shirt. Who doesn't like rainbows?
I know you're probably thinking, what?! I'm not wearing that! But remember, bike shorts by nature are compression garments. Plus, it's a good alternative to the legging. And if you're the arguing type, you can continue the debate over whether these are truly sportswear. If all else fails, you can look extra fancy in your morning spin class.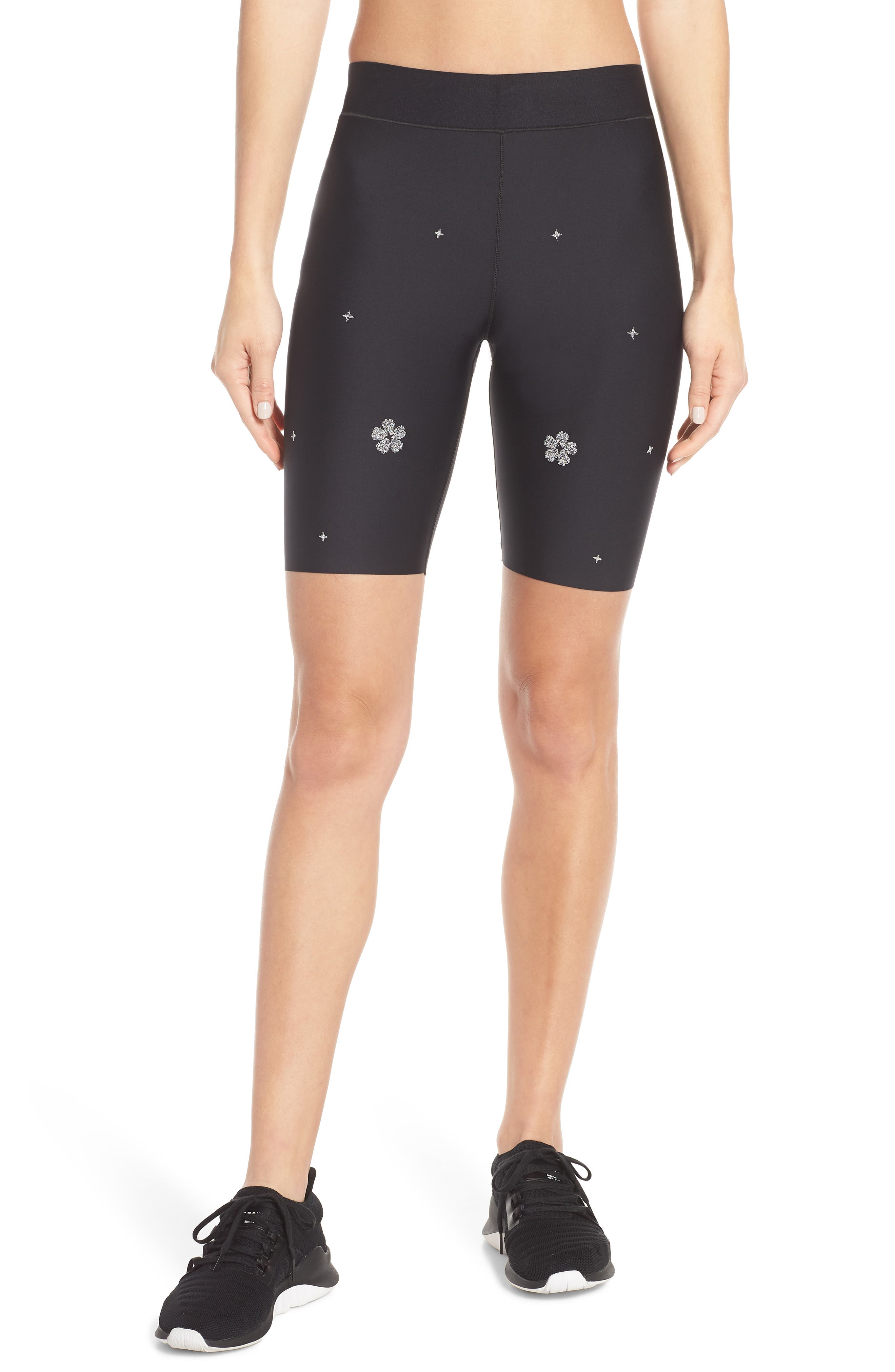 Aero Starflower Swarovski Bike Shorts

These bike shorts by Ultracor comes with Swarovski crystals to give you some extra bling. Toss your boring leggings and wear these instead. Pair them with sandals and a breezy top and you have athleisure at it's finest. It's 14% spandex. And speaking of pairing bike shorts with sandals:
These are the Cruise Bike Shorts by STAUD, which provides a dressier alternative for you. It's made of rayon, nylon, and 4% spandex. You can style it like here, with comfy flats, or with a barely-there strappy sandal and a linen or silk top and be summer-ready!
Of course, I have to include a bike short option from Spanx, because surely, they wouldn't lead us astray! With Spanx, you know everything will be (ahem) properly in place to give you the sexiest silhouette possible. This faux leather bike short is no exception. Not only is it animal-friendly, but it also incorporates another trend, leather, which isn't exactly compatible with warmer climates.
Again, another good choice for this summer. Animal prints seem to still be going fairly strong. Although it appears that leopard print comes and goes in popularity, there's something about snake print that never seems to go out of style. It could be that snakeskin shoes are essentially a classic. In any case, these come in at a 12% spandex, so it will feel like second skin…
Bodysuits and Leotards
Bodysuits and leotards are still going strong as well. There are so many options out there, from casual to workwear to evening. And with a bodysuit, you don't have to worry about whether to tuck or untuck.
Wayf brings us this cute body suit. This has beautiful lace details and a faux wrap. It can be dressed down with your skinny jeans and flats or dressed up for work with trousers and a blazer.
This find by Bardot is also a good one for work. Also featured is a faux-wrap front, this time with a shawl collar and long sleeves. The long sleeves make this a great choice for those chilly offices with either a Business Casual or even Business Formal dress code. Besides, everyone needs a good flower print top for the coming spring and summer. It's almost a rule.
Love. LOVE. Love. This bodysuit is a great piece. You can make it a Smart Casual look with jeans and heels. It can be made work appropriate with a blazer and trousers. Or an after 6 look with a skirt and pumps. Yank it off the mannequin if you have to.
Belt Bags
If you don't have a belt bag, what are you waiting for? These are fantastic options that are often lighter than the old cross body. You can give a nod to the 80s and wear it around your waist, or better yet, sling it across your chest, Rambo style. These are some cool options at Nordstrom right now: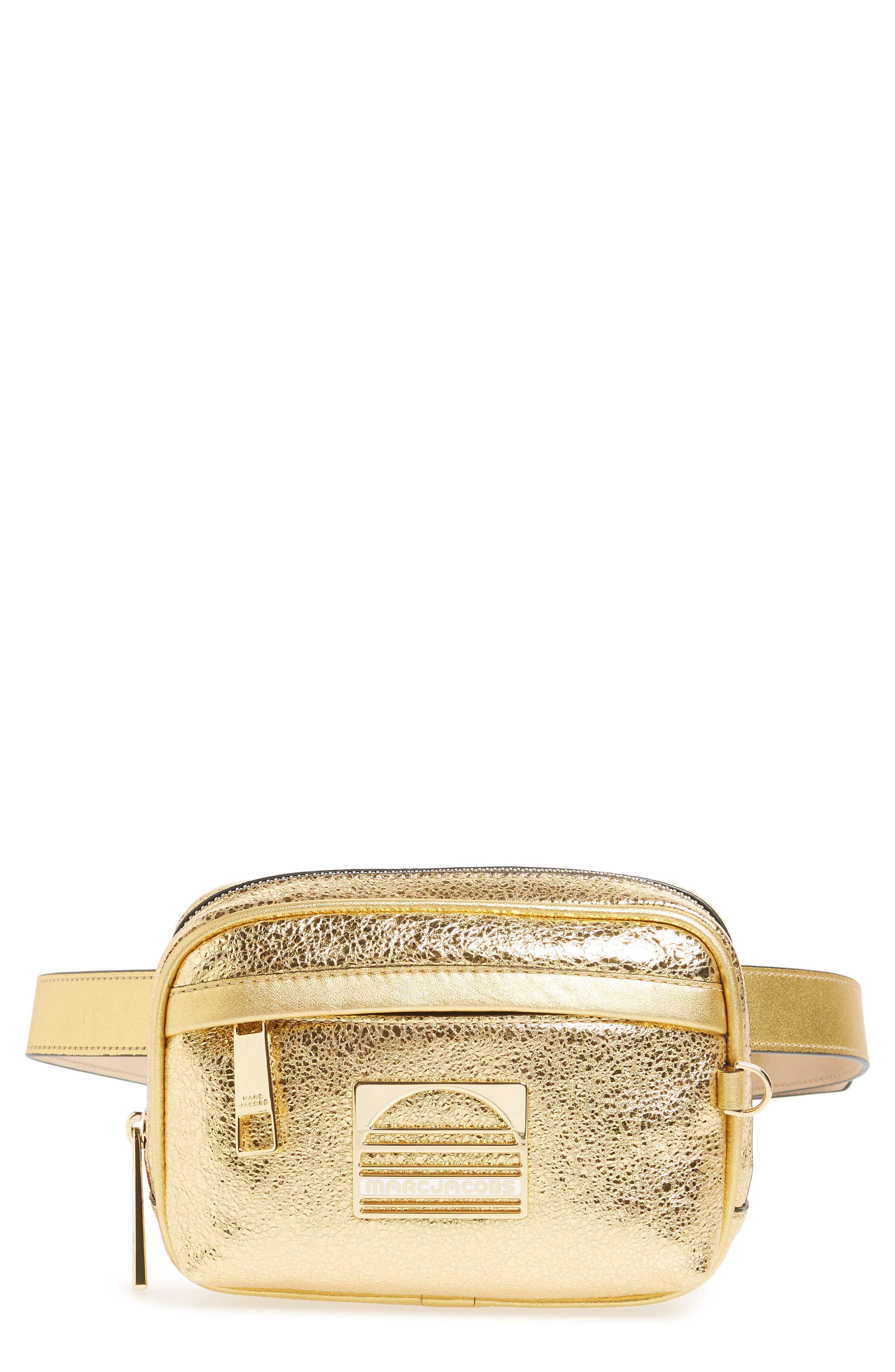 Sport Metallic Leather Belt Bag

Ahhh, Marc Jacobs gives us this belt bag that combines utility with high fashion. The gold metallic leather is perfect for summer. This is definitely a sporty way to carry your lipstick.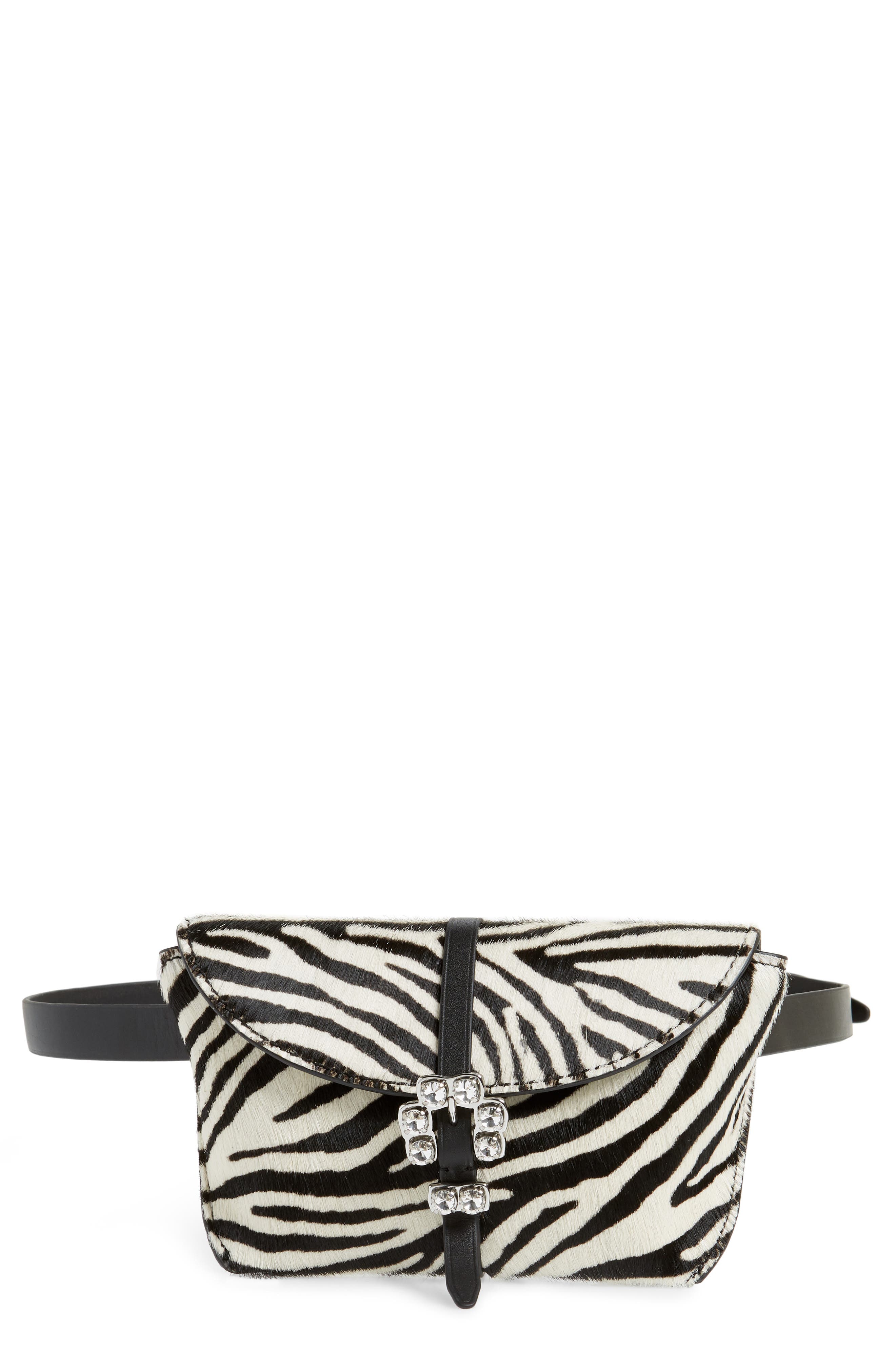 Hudson Genuine Calf Hair Belt Bag

Yes! From 3.1 Phillip Lim comes a belt bag made of genuine calf hair. Crystals at the closure are a nice touch. I read somewhere that zebras have stripes so that they blend into the heard. You won't be doing that.
Modern style and color blocking are characteristic of this belt bag. The shape and strap position makes this work best as a true belt bag. But never fear, this would look amazing with a black tank dress and flats.
If you're looking for a simpler look, try this one from rag &bone. There is a beautiful contrast between black and the detailing is consistent with the edgy nature of this brand. This a high quality and very cool piece.
I saw a quote the other day that said "nothing haunts us but the things we didn't buy" which made me laugh. But, it's kind of true. So carpe your wallet and get out to this sale before someone beats you to it. I'll see you there! Oh, and the sale ends April 22nd!